Greetings

Building on our corporate philosophy of "Enrich people, food, nature and society through agriculture," Ibaraki Chuou Engei has been delivering delicious vegetables across the country since its establishment.
To fulfill our mission of resolving various problems that beset Japanese agriculture, we contribute to its development while believing in its potential that leads to a better future and enhances its appeal.
Each of our members will grow professionally while carrying out the process of fulfilling the mission.
We would like to enhance welfare of society through this company and through food.
We strive to provide safe and secure crops, food products and valuable services. We never stop challenging the times.
We will keep trying our best!

Representative Director Kiyoto Kushida

Association Overview
Association Overview
| | |
| --- | --- |
| Name | Ibaraki Chuou Engei Agricultural Cooperative |
| Representative Director | Kiyoto Kushida |
| Establishment | October, 1978 |
| Address | 18-27 Obata, Ibaraki-machi, Higashi Ibaraki-gun, Ibaraki, Japan, 311-3157 |
| Number of members | 102 |
| Covered Areas | Omitama, Tsuchiura, Hokota, Ishioka, Kasumigaura, Shirosato, Tsukuba |
| Number of employees | 30 (as of January, 2014) |
Description of business
1. Educate and foster member farmers and provide them with opportunities for training.
2. Conduct all-round training for the production of vegetables, fruits and the like.
3. Sales of fertilizer, agrochemicals and production materials needed for cultivation.
4. Conduct practical instructions for the reality of planned contract cultivation in regard to the evolution of the vegetable market.
5. Conduct trilateral training sessions for farmers, agricultural cooperatives and consumers (food business).
6. Develop and distribute primary and secondary processed food for stabilizing vegetable prices.
7. Expand the sales network of processed vegetable products.
Certificates and Awards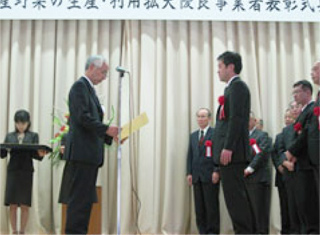 2009 Earned the "Agriculture & Livestock Industries Corporation President Award for Frozen Spinach" in the "2nd Best Domestic Vegetables Producer Awards" 。
The points valued by the review committee
1. Through an information exchange between producers (Ibaraki Chuou Engei) and retailers (Nihonnousankako Corporation) and holding meetings that bring all stakeholders under one roof, Ibaraki Chuou Engei understands the needs of consumers and retailers and attempts to improve the production and shipment processes accordingly.
2. Ibaraki Chuou Engei promotes the delivery of safe vegetables by keeping a record of cultivation management and cultivation history and conducting inspection on pesticide residue.
3. Ibaraki Chuou Engei practices fair and clear deals based on written agreements, for example by exchanging a written contract regarding the cultivation method.

Photo:
(On the left) Hiroyuki Kinoshita, the President of Agriculture & Livestock Industries Corporation
(On the right) Kiyoto Kushida, the Representative Director of Ibaraki Chuou Engei
2008 Earned the "Minister of Agriculture, Forestry and Fisheries Award for Contract Cabbage " in the "1st Best Domestic Vegetables Producer Awards"
2007 Obtained HACCP certified by the Ibaraki Food Hygiene Association